Home > Company > Promotion Center > News
CERAGEM Co., Ltd. inscribed on the โ€˜World Class 300โ€™ list to lead the global market
2018-05-23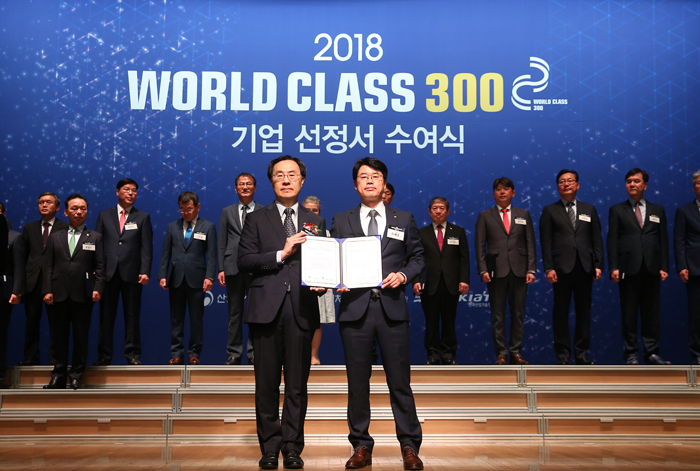 Ceragem, the global health care specialist, was listed as `World Class 300` enterprises.
Ceragem announced that its distinguished potential for future growth and superiority of technology as the global leader were recognized through the Certificate of Inscription in the `Inscription Ceremony for the World Class 300 Enterprises held in the international conference hall in Korea Chamber of Commerce and Industry, on the 15th.
World Class 300 is the government project for continuously expanding the driving force for growth by selecting the small and strong medium enterprises having the wills and potentials for growth as the global enterprises and providing intensive support. Among the enterprises satisfying the selection criteria including but not limited to โ–ฒsales of 40 billion to 1 trillion KRW, โ–ฒexport which is greater by over 20% than sales, and โ–ฒ annual average sales increase for the latest 5 years by over 15%,the winners are selected through the in-depth examination procedure including examination on requirements, evaluation on the industrial fields and field inspection.
At first, 29 World Class enterprises were selected in 2011 and 41 enterprises were inscribed on the World Class 300 list. Thus, total 300 enterprises were included in the World Class 300 list now. The World Class 300 enterprises will be supported to be the global market leader with the priority benefits including education and consulting service related to the intellectual property rights, national taxes and tariffs, logistics and overseas contracts as well as support for R&D expenses to develop future strategy and source technologies, overseas marketing and finance.
Established in 1998, Ceragem is the global health care specialist operating about 2,500 centers in about 70 countries in the world including China, India and Germany with USA as the first overseas office in 1999 as developing and launching the automatic thermal massager in the manual thermal massager market.
The โ€˜Master V3โ€™, the flagship product, enables users to do the custom thermal massage more pleasantly and effectively as the advanced director movement system measures the curvature of spine with upward and downward movement and analyzes the features of spinal curvature which varies on individuals. The `Master V3` acquired approval from the FDA in 2014 and listed as one of World-Class Products of Korea in the personal thermal massager category for the 16th consecutive years since 2002.
Furthermore, Ceragem has been substantially favored by female clients with `Youridm`, the medical device for total body care relieving muscular pain using the low-frequency ultrasonic heating function, and `Lady`, the medical device for skin care at home enabling to easily care skin by oneself at home using the composite functions including high-frequency ultrasound. Ceragem products are displayed in `Naviel`, the health care brand for women, and `Club Balance 5`, the health, beauty and diet brand for customers to experience.